I'm a tough customer when it comes to watching a play because I want it to really challenge my views on something and make me think, not just entertain me. So I only tend to go to see shows I'm sure I'm going to like or are written by a writer/ directed by a director/company /at a theatre I know I like because it's so depressing to go see a show that just doesn't touch you in anyway at all.
That's why my #12newplaywrightsin12omnths project where I see or read a play by a writer I don't know every month has been great this year. I've seen and read some pieces I never would've done and I've discovered some gems like this one:
The poster for Pomona (above) if you ask me looks brilliant and I said to my friend I saw the show with: 'this play is never going to be as exciting as this poster image, I mean, someone with a squid mask on, I've never seen that in a theatre. No one's going to do that!'
However, I was wrong.
Pomona blew my socks off and it's very possibly my show of the year, as not only was the writing brilliant, but the directing, acting, set design, sound, everything coalesced to give a fantastic theatrical experience and was a real lesson in how far you can take the audience and still communicate something very true with depth.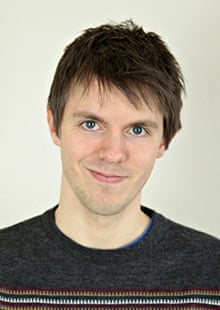 Alistair McDowall, the playwright behind the show, won the Bruntwood Prize for Playwrighting a few years ago and his play Pomona was commissioned by the Royal Court for the Royal Welsh School of Drama before it went to the Orange Tree in Richmond and then transferred to the National Theatre in London before going to the Royal Exchange Theatre in Manchester.

There are some great interview available on why and how he wrote it (theatre voice, write a play & an article in the guardian on his style).
I learnt lots from watching and then reading the play afterwards and here are my top 3 tips:
It's ok to keep the audience in the dark
So this play isn't chronological, it goes forward and back in time jump cutting to different strands of narrative between characters who all fit in a story but who don't all know each other and no one person oversees all the action. I actually had to read the script and then write down what I thought the time period of each scene was in an attempt to find their chronology. It moves around a lot in time and some scenes happen simultaneously if you look at it in this way. The scenes are short too, some very short and this adds to the role the audience ends up having: you become a detective trying to piece the pieces together. I haven't experimented with a disjointed chronology but this has definitely given me the challenge to have a go. McDowall got a good balance of jump cutting towards the beginning and then longer scenes that explained a bit about what was going on. He also made sure that the quest within the play was spelled out at the beginning so if you did feel lost later on you had that to cling to.
Setting can become a character and theme can hold the play together
The only constant through all the jump cuts is place: we are in Manchester and the city (where all roads lead to Pomona) may as well be a character in the play itself. This gives the quest set at the beginning -Ollie is looking for her twin sister- a mysterious quality as the city seems to have its own laws. However whether the characters are searching for Ollie or not, through the play we learn that all the characters are searching for the same thing: the city is a place where you're on you're own and it's hard to meaningfully connect with anyone, everyone is searching for that person or thing that will bring them out of their despair. This eventually gives us a connection to all the characters and the parts they play in search for or the hiding of Ollie.
Make magic for a better audience experience
The play is inspired by many things: McDowall's late night drive round the M60, sci-fi novels, comics and films. In this interview McDowall says
"There are no rules in theatre – you can do anything"

"In theatre, I can do whatever I want. No one is going to say, 'Don't put a time machine in your play.'"
That's something I love about theatre too, which is why you get goats in Africa and men eating live flying birds in my plays.
In order to give as he puts 'a better audience experience' (in this interview) he deliberately keeps the audience guessing by SPOILER ALERT having the actress that plays Ollie also play her twin sister, which adds to the mystery of the whole play as you wonder if you're in a game or if there even was a twin or… well it just makes you wonder and makes the play feel slightly magical in it's complexity. Like the moment you realise NEO is the ONE in The Matrix…
My lasting memories of this play will be this sense of magic and it's tender heart but brutal moments too. I will definitely be trying some of these tricks in my own work!
October's playwright
As you can see I'm a bit behind on my October playwright, but I have a copy of Stef Smith's Swallow in my bag to read so she will be my next focus.